Corporate Languages Offered
The United Kingdom has long been regarded as one of the hubs for international business, foreign investment and tourism. The Office for National Statistics, which compiled the national figures, says that overall there are 53 "main" languages in the capital spoken by at least 0.1 per cent of residents (as of 2011). There are also another 54 which include variants of established languages such as Chinese or those, such as Caribbean Creole, Cornish or Gaelic, spoken by a small number of people.
For corporates, this means that developing our languages skills and understanding other cultures is key to maintain and improve business relations with our counterparts in other parts of the world. Multilingualism is the mantra of corporates looking to surge forward strategically.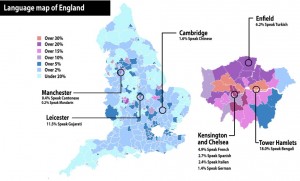 Source: National Census 2011
We offer a wide range of worldwide languages and caters for all levels of ability.
Most Popular European Languages
English, French, Spanish, Portuguese, Italian, German, Dutch, Bosnian, Greek, Bulgarian, Czech, Serbian, Croatian, Danish, Estonian, Finnish, Hungarian, Latvian, Romanian, Lithuanian, Polish, Slovak, Catalan, Norwegian, Slovenian, Ukranian and Swedish
Most Popular World languages
Arabic, Brazilian Portuguese, Cantonese, Mandarin, Farsi, Gujurati, Hebrew, Hindi, Japanese, Korean, Kurdish, Latin-American Spanish, Punjabi, Russian, Swahili, Thai, Turkish, Urdu and Vietnamese
Other Languages
Abkhazia, Afrikaans, Amharic, Ancient Greek, Aramaic, Armenian, Aymara, Azerbaijani, Bashkir, Belarusian, Bengali, Frisian, Georgian, Guarani, Hausa, Indonesian, Irish (Gaelic), Kashmiri, Kazakh, Kirghiz, Latin, Latvian, Macedonian, Malay, Malayalam, Marathi, Moldavian, Mongolian, Nepali Pashto, Samoan, Sangho, Sanskrit, Sindhi, Singhalese, Siswati, Somali, Sudanese, Tagalog, Tajik, Tamil, Tatar, Telugu, Tigrinya, Turkmen and Uzbek