Our Language Teachers
Our language teachers are our most important asset. The success of our company is dependent on our teacher's professionalism and expertise. We therefore take great care in choosing them:
Checks and references
We ask for copies of our language teachers' professional qualifications
We ensure that all our trainers have extensive language teaching experience
We require a current Police Check Certificate
We ensure that our language teachers are either native speakers or of native standard
We request three up to date references of a personal and professional nature, each of which is followed up
As well as qualifications and experience, here are some of the qualities we look for in a prospective language teacher:
Enthusiasm
Reliability
Punctuality
Patience
Creativity
As our language teachers are either native speakers or are of native standard, not only will you learn the correct use of the language, you will also gain a sense of its associated culture. As representatives of Conversation Piece Ltd, our language teachers will always dress and conduct themselves in an appropriate manner.
To enquire about the availability and price for learning a language with one of our language teachers please submit our quick online enquiry.
Example profiles of our teachers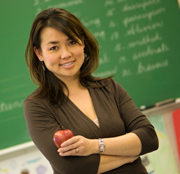 Foreign Language Teachers, Language Tutors