Intermediate Language Courses
We offer Intermediate Language Courses in over 30 different languages. Example Intermediate Course (Spanish)
Intermediate Language Courses enable you to develop and improve your spoken language, so you can converse more confidently with native speakers when abroad.
This is taught through informal and friendly discussions on various pre-selected subjects, normally a current affairs topic that requires some thought.
To be suitable for an intermediate language course, it is expected that you will already have at least a degree of fluency and a vocabulary of over 1000 words
The classes will also develop your listening and comprehension skills to improve understanding and pronunciation, getting you to begin thinking in the language for the first time.
How we work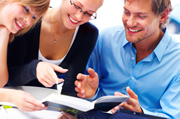 We set up an initial intermediate lesson 
Your Teacher gets in touch
Initial lesson and Feedback
more

Intermediate Language Course, Language Lessons at Intermediate Level

Beginner Language Courses also available