Gift Vouchers
Gift vouchers are the ideal gift for those who have always wanted to learn a new language but never found the time to organise it. Conversation Piece offers a variety of gift vouchers from a 2-hour taster session to a 30-hour course for learners all over the UK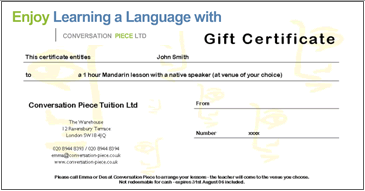 Whether it is to brush up on conversational French before a holiday, prepare for an international business meeting or just for the joy of learning a new language, Conversation Piece gift vouchers allow for great flexibility: you can choose to arrange the lesson times and days yourself as a surprise or let the recipient of the voucher arrange the details of the tuition themselves.
Lessons can take place at the student's home or office or in our own training room (week days only) and times are flexible. Each course will be tailor-made to suit the needs of the individual learner.
Our vouchers can be personalised with the name of the recipient and your own message, if required. They are the ideal gift for birthdays, anniversaries, Christmas, Valentine's Day, etc…
Conversation Piece Ltd courses are taught by highly qualified, experienced and friendly trainers. Each course is designed to suit the recipient's level, prior knowledge and objectives using course books and other everyday materials (newspaper articles, audio clips, etc.) as well as a wide variety of activities (role-play, discussion panels, etc.)
Our Range of Gift Vouchers:
2-Hour Taster Session from £80.00
6-Hour Course from £240.00
20-Hour Course from £800.00
30-Hour Course from £1200.00
Please note that prices vary depending on the language requested, the number of students and the tuition location.