Arabic Language Lessons
Arabic is the term used to describe the language of the Qur'an, Modern Standard Arabic (an adapted form of the latter) and a wealth of local dialects spoken throughout the Middle East.
How we work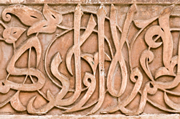 A minimum booking of four Arabic lessons is made
Your Arabic Teacher gets in touch before the first lesson to establish your requirements
After the first lesson we contact both you and the teacher for feedback to ensure that everything is to your complete satisfaction
more
Prices: Arabic Lesson, Arabic Language Course
Learning Arabic is easier than you might think: certainly, it takes time and practice, but there are not many irregularities in the grammar. It's much less complicated than Latin, and you will quickly discover that there are quite a few words in English that have an Arabic origin: casbah, alcohol, lute and zero are but a few!
London Arabic Lessons
Conversation Piece offers a wide variety of Arabic language training options to suit your availability and tuition needs. Whether you wish to learn Arabic in a one-to-one with a trainer, you and your partner wish to learn Arabic together or you and a small group of friends wish to take Arabic lessons together, we can arrange for an Arabic trainer to come to your preferred location (your home, your office etc.) or we can arrange for you to use our training room (week days only).
Within days of my application, Conversation Piece had matched me with a local Arabic speaker, with whom I have built a fantastic relationship. The ability to have a one-on-one teacher come to your house, according to your availability, is the best way for an extremely busy professional to learn a language in my opinion……..intensity with flexibility in language tuition."
Peter Mason
Our teachers recommend a minimum of 1.5 hour lesson per week but this is entirely flexible. Remember: if you are searching for an original present for a special occasion, look up our gift vouchers!
Arabic Language Training Options
Arabic Language Courses
Arabic Language Lessons
Intensive Arabic Lessons
Arabic Course Content Descriptions
Beginner Arabic Course
Post Beginner Arabic Course
Intermediate Arabic Course
Advanced Arabic Course
Arabic Teacher
Below is an example profile of one of our Arabic teachers.
Arabic Tutor Profile
R.K. is a native Arabic speaker originally from Morocco. He graduated with a BA Degree in English Literature and has been in the UK since 2002.
He has vast experience teaching Modern Standard Arabic in both Morocco and the UK, having taught across all levels and ages. He is currently teaching Arabic on a part-time basis in a local college and is offering private tuition as well.
This is an example of the type of language teachers Conversation Piece Ltd employ. For more information about our language teachers click here.
Arabic Resources
Prices
Individual: From £45.00 + VAT
Small Group: From £54.00 + VAT
Large Group: From £64.00 + VAT
Get in touch
Start your learning process with a simple contact form!
Get in touch