Russian Language Lessons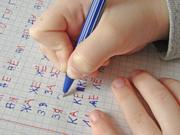 Russian is the most geographically widespread language of Eurasia and the most widely spoken of the Slavic languages. It is the Official language of Abkhazia (Georgia), Belarus, Crimea (de facto; Ukraine), Kazakhstan, Kyrgyzstan, South Ossetia (Georgia), Transnistria (Moldova), Russia. Russian is also one of the 6 official languages of the United Nations.
Conversation Piece offers a wide variety of Russian language training options to suit your availability and tuition needs. Whether you wish to learn Russian in a one-to-one with a trainer, you and your partner wish to learn Russian together or you and a small group of friends wish to take Russian lessons together, we can arrange for a Russian trainer to come to your preferred location (your home, your office etc.) or we can arrange for you to use our training room (week days only).
Our Russian teachers are all native speakers and recommend a minimum of 1.5 hour lesson per week but this is entirely flexible.
Remember: if you are searching for an original present for a special occasion, look up our gift vouchers!
Russian Teacher
Profile of Russian Tutor
Jarmila P. is a bilingual Russian speaker with over 10 years training experience. She graduated with a Phd in Russian Language Teaching Methodology and has obtained two postgraduate diplomas from Moscow State University for teaching Russian as a foreign language.
She is a fully qualified Russian language trainer with vast experience teaching Russian across all levels, having taught in various local colleges and university in the Sussex area. She has developed a very structured and systematic approach to teaching Russian, and has experience preparing clients for various Russian exams.
This is an example of the type of language teachers Conversation Piece Ltd employ. For more information about our language teachers click here.
Russian Language Training Options
Russian Language Lessons
One-to-one Private Tuition
Small Group Tuition
Large Group Tuition
Russian Language Intensive
Prices
Individual: From £45.00 + VAT
Small Group: From £54.00 + VAT
Large Group: From £64.00 + VAT
Get in touch
Start your learning process with a simple contact form!
Get in touch