English Language Lessons
It is estimated that over 1.8 billion people speak English throughout the world. Allow us to help you speak English so that you may join them! English lessons are offered all over London and the UK. Our English trainers recommend a minimum of one 1.5 hour lesson per week, but this is entirely flexible and can be adjusted to suit your schedule. We offer a wide variety of English language training options to suit your availability and tuition needs.

English lessons are offered:
In one-to-one settings with a trainer
With your partner or group of friends
We can arrange for an English trainer to come to your preferred location (your home, your office etc.) or we can arrange for you to use our training room (weekdays only).
Tourism
Have you ever wished to visit the Great Barrier Reef in Australia or explore the sandy beaches of the Bahamas? If the answer is yes, take the first step and broaden your knowledge of the English language. Some of the world's most beautiful attractions can be found in English speaking countries. Allow us help you develop a deeper knowledge of the English language so that you can fully enjoy everything that these countries have to offer.
English Teacher
Example profile of an English Tutor:
Helen S. is a native English speaker with over 5 years training experience. She graduated with an Honours Degree in European Languages and a PGCE in teaching Modern Foreign Languages.
She has also obtained a Certificate in Teaching English to Speakers of Other Languages. She has extensive experience teaching English to speakers of other languages across all levels and ages, having taught in Japan for 5 years. She comes across as a pleasant and friendly trainer, with a passion for teaching and the English language.
This is an example of the type of language teacher that Conversation Piece
Ltd employs. For more information about our language teachers click here.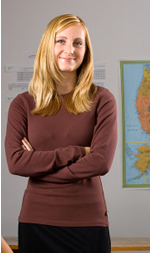 English Language Training Options:
One-to-one Private Tuition
Small Group Tuition
Large Group Tuition
English Language Intensive
Remember: if you are searching for an original present for a special occasion, look up our learn English gift vouchers!
Prices
Individual: From £40.00 + VAT
Small Group: From £49.00 + VAT
Large Group: From £59.00 + VAT
Get in touch
Start your learning process with a simple contact form!
Get in touch