Mandarin Language Lessons
The term "Chinese" is a generic term for the group of languages spoken by the Han Chinese people. Mandarin, spoken by over 955 million people, is the official modern Chinese spoken language used by the People's Republic of China, the Republic of China (Taiwan), and is one of the four official languages of Singapore. If you want to go to China, then this is by far the most useful variety of Chinese to learn.
We offer a wide variety of Mandarin language training options to suit your availability and tuition needs:
Individual Mandarin lessons with a teacher
You and your partner learning Mandarin together
You and a small group of friends/family members wish to take Mandarin lessons together
Skype lessons
Your Mandarin teacher can go to your preferred location (your home, your office etc.).
Why not consider organising a group of friends or family members to make your Mandarin lessons more cost effective? For example for a group of 5, the cost would be £10.00 (plus VAT) each for a one hour lesson.
All you have to do is organise the group and venue – Conversation Piece will provide the teacher.
Our Skype option is ideal for students who travel or live in remote areas - Prices start from as little as £32.00 plus VAT per hour.

Suggestion: looking for an original present for a special occasion? See our gift vouchers! for friends and family wishing to Learn Mandarin
Tourism
Allow our trainers to help you learn Mandarin so that you may visit The Great Wall of China or experience the Avenue of Stars in Hong Kong. No matter where your travels may take you, our Mandarin courses can ensure that you're receiving the training that you need to enjoy your vacation. With Mandarin lessons personally tailored for your needs, it's never been easier to learn Mandarin.
Our trainers will teach you:
How to speak with the locals
How to ask for directions in Mandarin
How to effectively use public transportation
How to find amenities and attractions
Mandarin Language Training Options
Mandarin Language Courses
Mandarin Language Lesson
Mandarin Language Teacher
Mandarin Teacher profile
May N is a native Mandarin speaker who graduated with a BA (Hons) Degree. She has been in the UK since 2001 and is currently living in Stockport. She has vast experience of teaching Mandarin across all levels and ages, and is currently teaching Mandarin at a local secondary school.
She also works as a Mandarin interpreter for Stockport Ethnic Diversity Service. She comes across as a very pleasant and friendly tutor, who has a great passion for teaching
and her native language.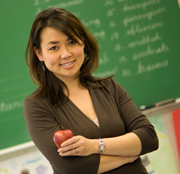 This is an example of the type of language teachers that Conversation Piece Ltd employ. For more information about our language teachers
click here.
Mandarin Resources
Prices
Individual: From £45.00 + VAT
Small Group: From £54.00 + VAT
Large Group: From £64.00 + VAT
Get in touch
Start your learning process with a simple contact form!
Get in touch